With Mother's Day just around the corner, we've got our sights set on making sure all the dog and cat moms out there feel appreciated and loved. This year, why not step up your gift-giving game and surprise your furry friend's mom with something really cool and unexpected?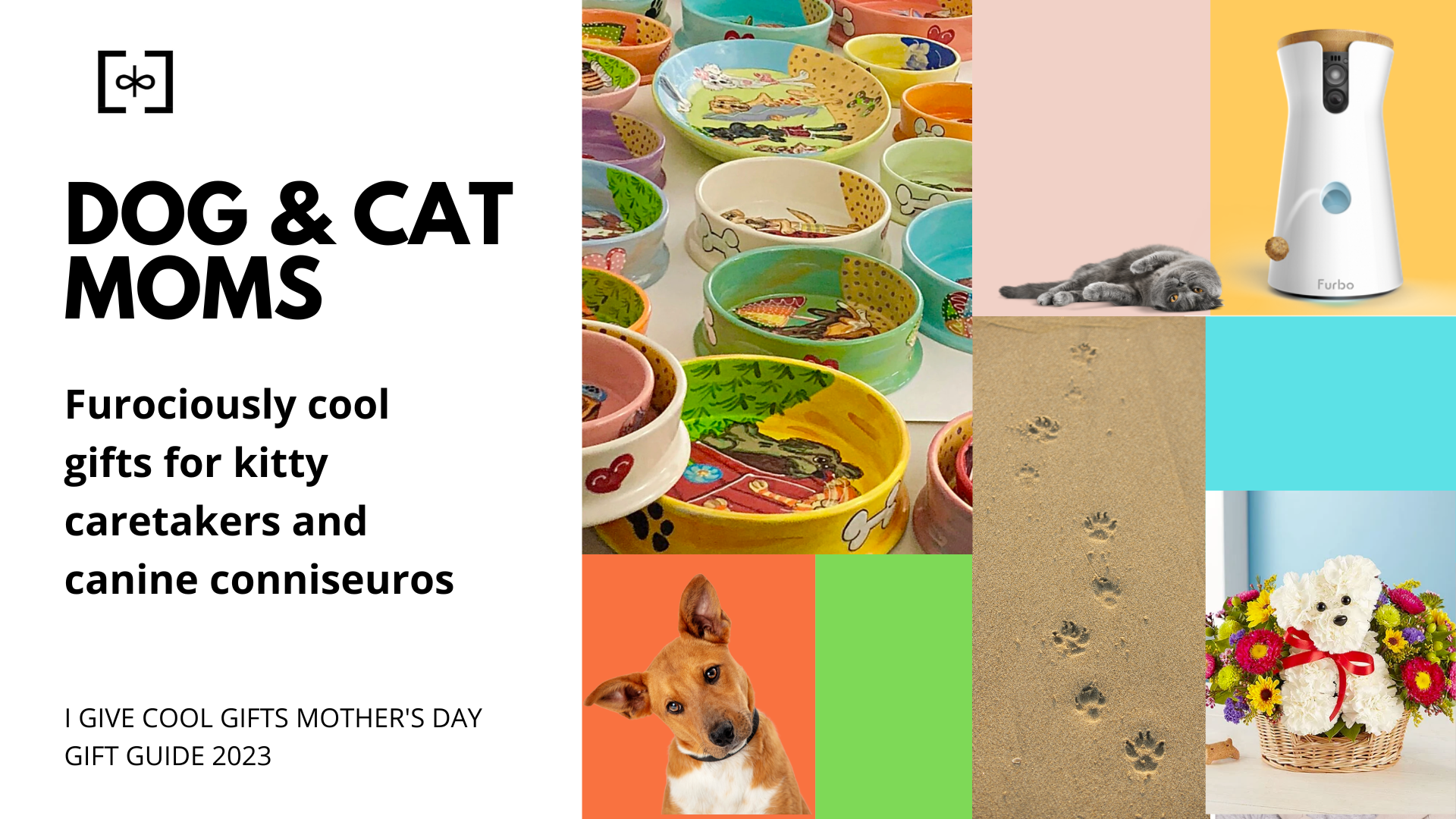 ⏰ = last minute shipping available
For the dog or cat mom who loves her furry friend, these gifts have her loyal companion in mind, so don't hesitate to go full send:
A house divided. Instead of the classic knights, kings, and queens, each side features a royal court filled with various breeds of felines and canines, all ready to duke it out in the most highbrow way possible.
2. 1-800 Flowers a-DOG-able in a Basket
Unleash the smiles with this furocious floral creation. This basket makes a great gift for pet lovers or anyone who could use a little more puppy love in their life.
3. Faux Paw Custom Hand Painted Portrait Bowl
Hand-painted by artist Debby Carman, a worldwide acclaimed Laguna Beach artist and sculptor, known for her warm, whimsical and heartwarming pet portrayals. This makes a perfect gift for anyone who loves their pup more than life itself.
The black and white feline pair on this 100% cotton blanket will inspire cozy cuddling and snoozing.
5. Furbo Treat Dispensing Camera ⏰
The Furbo treat dispenser is a great gift for moms who want to stay connected with their furry friends, even when they are away from home.
6. Cat Inside Out Reversible Robe
Any cat mom will love this robe featuring Tabbies, cow cats, tuxedos, and more as they pose nonchalantly.
7. KittyRoo Cat & Small Dog Carrying Hoodie ⏰
If her cats have a habit of interrupting her in her home office, the KittyRoo will give her feline friends an ultra-soft home while she continues her day.
For mom's committed to the purr-baby life, give them a trio of feline-themed gifts to make them grin like Alice in Wonderland's Cheshire Cat.
9. Silver Cellars Wine Pet Feeder
For cats and dog who only deserve the best, Silver Cellars crafted this feeder using a panel from one of the wine shopping boxes that once embraced their fine wines.
10. Ground & Hound Coffee ⏰
Every cup helps a pup! Grounds & Hounds pairs a selection of medium roast coffee with charitable contributions to a variety of animal rescue initiatives.
11. 101 Pooping Puppies 1000-Piece Puzzle ⏰
If mom loves puzzles, she'll get a kick out of this one. Terriers, schnauzers, pointers, shepherds, retrievers, mutts, hounds, and a whole pack of 101 dogs are all on display and getting ready to go.

12. Jonathan Adler Poodle Salt & Pepper Shaker ⏰
Some not so standard poodles to add to her dining set. These playful poodles let her tablescape go to the dogs.
13. Doggos Doing Things Hardcover Book ⏰
If your mom is constantly sending you dog memes, this book is a dream. Pair this with some flowers and watch mom revel in the hilarious world of puppos, borkers, and other good bois.
14. Cats and Flowers 500 Piece Puzzle ⏰
A fun, floral challenge for cat lovers. A portion of proceeds go directly to environmental non-profits for an added feel good moment to share.
15. Pettsie Cat Collar & Friendship Bracelet ⏰
Celebrate the bond of mom and cat with this collar friendship bracelet duo.
I hope you found these gift ideas helpful and were able to find the perfect gift for your mom. Thank you for supporting I Give Cool Gifts and our mission to make gift-giving easier and more enjoyable. From all of us here, we wish you and your mom a happy Mother's Day!
I Give Cool Gifts is the ultimate destination for gift-giving inspiration. Browse through thousands of gifts to find the coolest presents for the coolest people in your life. Our expertly curated selection is updated daily.
Please note that we do not purchase or sell any items on our website, but some products may be subject to affiliate commission. You can learn more about our affiliate policy here.