Mother's Day is just around the corner, and you want to make sure you give your mom a gift that truly shows how much you appreciate her. But with so many options out there, it can be overwhelming to decide what to get her. That's where we come in – at I Give Cool Gifts, we specialize in finding the coolest, most thoughtful presents that will make your mom's day extra special.
Whether your mom is into fashion, travel, or pickle ball (whomst mom isn't?), we've got you covered. Our team has scoured the web for the best Mother's Day gifts that will make your mom feel loved and appreciated. From Edible Flower Cookies to a-Dog-able Bouquets, we've got something for every type of mom.
So sit back, relax, and browse our selection of cool gifts for Mother's Day. We guarantee that you'll find something that will make your mom smile and feel loved.
⏰ = last minute shipping available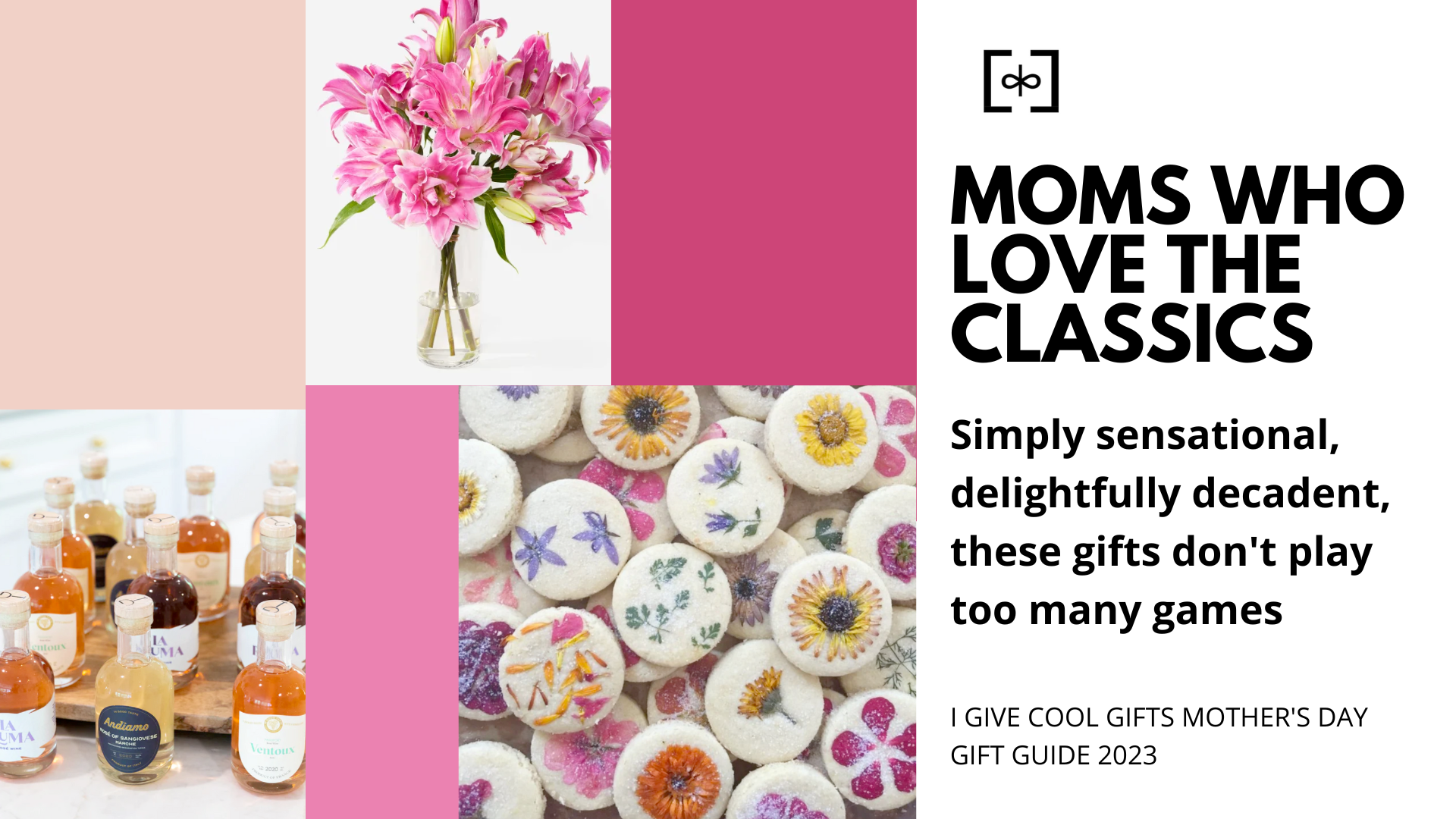 If you want to make your mom feel extra special, give her a gift that covers all the bases: flowers to brighten her day, chocolates to sweeten it, and wine to help her forget all the times you didn't call.
1. Urbanstems Mother's Day Bouquet
If your mom is crazy about daisies or have celebrations with carnations, UrbanStems is my go-to virtual florist.
2. Eat Your Flowers Flower Pressed™ Shortbread Cookies
Skip the bouquet and send this dozen of uniquely designed vanilla shortbread cookies featuring handpicked edible flowers and herbs.
3. A Dozen Rosés In Good Taste Wine Sampler
Say goodbye to traditional flowers and surprise your loved ones with a box of 12 delicious rosé wines.
4. Bottle-of-Wine Chocolate Truffles Box
Toast to mom's sweet tooth with a dozen of delicious chocolates.
An ingeniously designed accessory to keep mom's wine at the ideal drinking temperature.
This infuser lets mom enjoy the cozy comfort of her favorite loose-leaf blend—without the mess.
7. Hand Painted Double Hummingbird Feeder
If your mom loves birds, she'll love serving up sweet nectar with this handblown feeder inspired by the shape of a pot de crème.
8. Arm-Protecting Gardening Gloves
Mom will love these gloves because they provide extra protection from scratches, cuts, and other precarious hazards while working in her garden.
9. Handmade Alice's Adventures in Wonderland Bouquet of Mini Roses ⏰
A classic mom will adore this mad bouquet of roses upcycled from classic literature.
10. Forget-Me-Not Palo Santo Earrings
Mother-and-daughter jewelers Tulianna and Alejandra Garces designed their elegant danglers which make it a perfect gift for mom's day.
Looking for the perfect gift for your active mom? Give her the gift of soreness relief with a massage gun, running shoes to chase after her goals, and a new Pickle Ball paddle that will make all of her friends on the court jealous.
This soft and stretchy jacket is designed to wick away sweat during mom's hardest workouts or busiest day without riding up or bunching at the bottom.
2. 2-in-1 Pickleball Paddle Tote
On the way to and from the court, mom can carry all her pickleball game-day essentials in these colorful & versatile bags.
With the MetCon 8's, mom can float through her cardio, power through her lifts and dominate her workouts. This version has a collapsible heel that lets you step in without using her hands, then it snaps back up to secure her foot.
Court is in session when you give mom this set featuring a wine bottle chiller and two accompanying insulated tumblers. Perfect for a post-match rosé.
5. Women's Tri-Block Marl Ankle Sock 6-Pack
Socks might be the most exciting thing she's ever received, but she'll change her mind when these sweet neapolitan-inspired babes become her daily go-to's.
Honor mom by treating her body like the temple it is using a CBD-infused soak packed with nourishing and soothing ingredients. Perfect for post-work out relaxation.
7. HoMedics® Therapist Select Plus
Help mom hit those hard-to-reach trigger points with percussion precision thanks to the HOMEDICS® pro series ii percussion massage gun.
Personalized shoelace tags can be equipped to mom's favorite hiking or running shoes and customized with a message or mantra.
9. Pickleball Paddle Charcuterie Board
Mom's turn to serve. The only time everyone's welcomed into the Kitchen—when preparing snacks on her new Pickleball charcuterie board.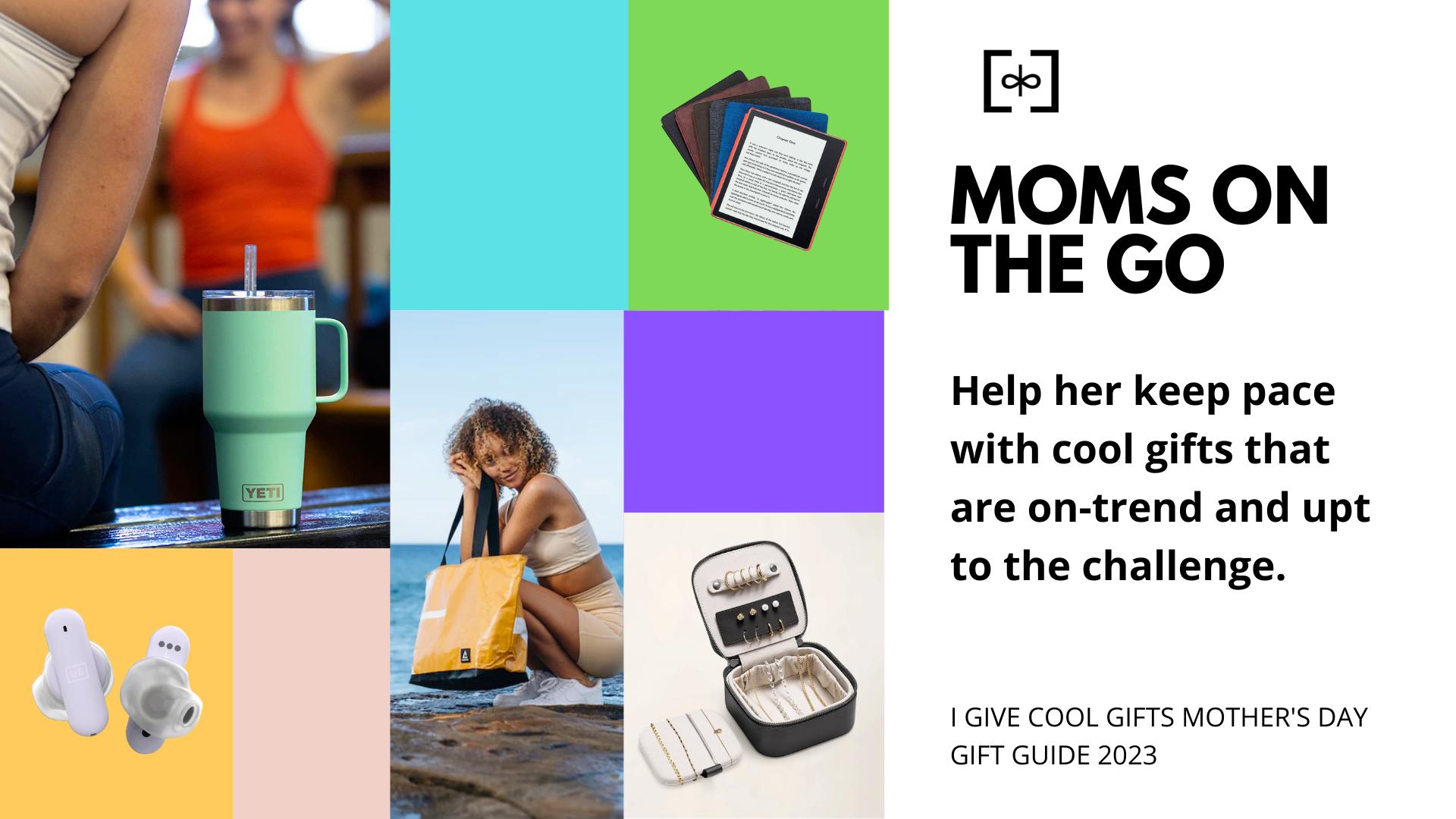 These gifts are perfect to touch down on mom's heart; nothing says I love you like, "please go visit the other side of the world":
1. Rareform Billboard Beck Cooler Bag
These totes are made from recycled billboards...how cool?! The Beck is the perfect go to cooler bag for drinks, snacks, and anything else on the go.
2. Vessi Everyday Move Slip-on
These athletic-inspired sneakers offer mom the perfect blend of support and breathability for daily movement in any weather. Oh and they are completely waterproof.
3. Away Travel "The Jewelry Box"
Traveling with jewelry can be a pain. The Jewelry Box fixes that. This leather travel kit has multiple organizational compartments for all of mom's essentials.
4. UE FITS Custom Fit Truly Wireless Earbuds
Mom's search for the perfect pair of ear buds that won't fall out of her ears is finally over. UE FITS molds to her ear in just 60-seconds of setup for a lifetime of comfort.
If mom doesn't already have a Kindle, this is an easy choice. Paperwhite is thin, lightweight, and travels easily so she can enjoy her favorite books at any time.
6. Rifle Paper Co. Luggage Tag for Apple Air Tag
Combining tech and style, this Apple Air Tag and luggage tag set let's mom track and spot her bags easily with the unforgettable Rifle Paper Co. florals.
Perfect for the beach or mountain top toasts, this durable and eco-friendly bottle bag fits two bottles and is is not only made from postindustrial waste, but it is also completely biodegradable
8. Shokz OpenRunn Bone Conduction Headphones ⏰
If mom is constantly switching between her music, podcasts, or calls on the go, I can't recommend OpenRunn by Shokz more. My favorite headphones that sit just above the ear for those who aren't fans of earbuds.
9. On Women's Cloudswift 3 Running Shoes
Whether she's touring around Rome or traversing the streets of Amsterdam, mom will need a good pair of sneakers who can handle all day pressure.
These days it's hard to imagine leaving the house without your emotional support water bottle. This hefty hydrator is up to the challenge to keep mom's favorite beverage cool wherever she takes it.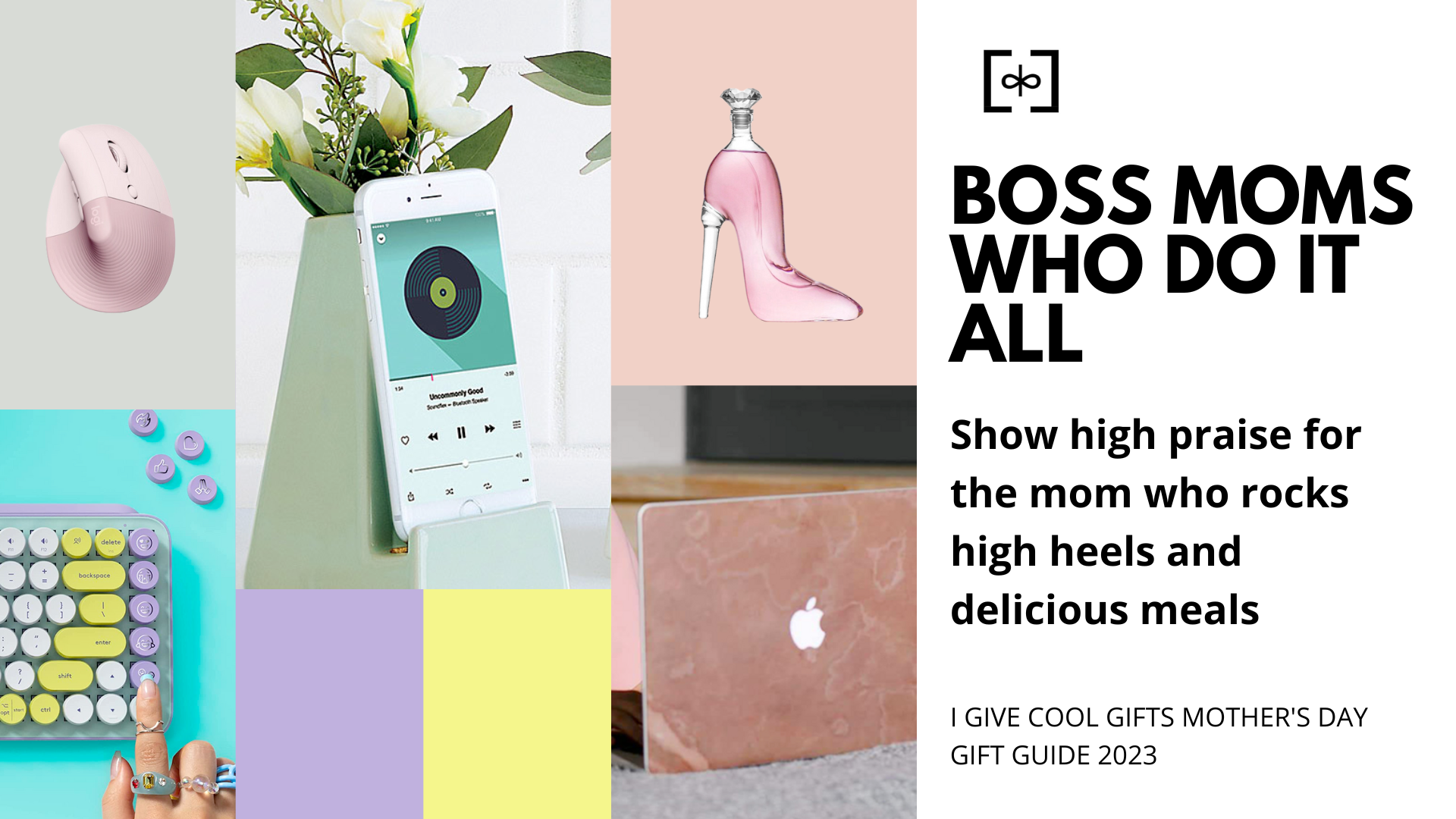 For the mom who loves the grind as much as she loves you, I have high hopes these gifts will strike a chord with the high heel, meeting crushing power mom.
1. Coach Leather Picture Frame
Capture a memory for mom's desk and drop it into this buttery soft glove-tanned leather picture frame from Coach.
2. Logitech POP Keys Mechanical Wireless Keyboard ⏰
Liven up mom's desk with this vibrant mechanical keyboard. Built-in emoji keys allow mom to express herself easier than ever whole still getting it all done.
3. Twelve South PowerPic Mod ⏰
Part wireless phone charger, part picture frame; the PowerPic Mod let's you add a favorite memory to mom's desk while keeping her devices charged.
4. Logitech Brio 500 ⏰
Finding a way to have mom look her best and have a desk setup design to impress can be hard. The Logitech Brio 500 comes in three different colorways combining functional design with eye catching style. Oh and it's a pretty good camera too.
Everyone needs a day off every now and then. Let mom kick back and soak up the suds with her essentials close by with this easy to install bath tray.
Part smartphone stand, part vase, this bloom box brightens up your table. Designed by Heather and Myles Geyman, the stand holds a bouquet of fresh-cut flowers or ever-lovely dried blooms.
Work hard, play harder. If mom likes to throw a few back after a long day at work, this kit will do the trick.
8. Ultimate Home Cutting Board
For mom, productivity and multitasking are second nature. While she's chopping up something delicious, she can easily follow along to a recipe or stay present on a work call.
Good stationery never goes out of style as a cool gift. This pretty-in-pink set features Appointed classics to keep her organized.
For the company field day or an after work walk, the YETI Rambler Wine Tumbler is the perfect gift to keep her favorite beverage chilled.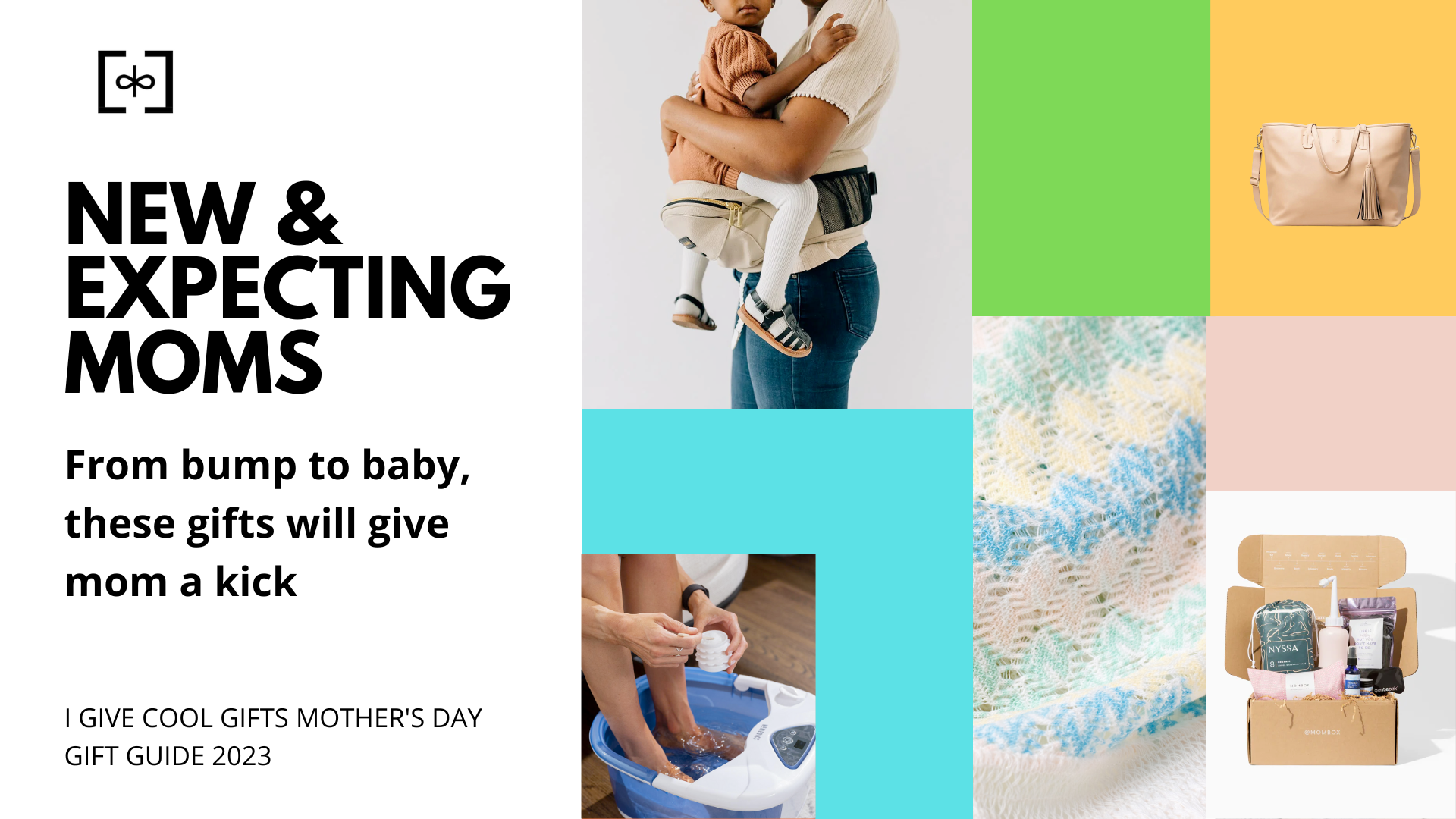 Becoming a new mom or expecting a little one is an exciting time in a woman's life, and what better way to celebrate this milestone than a heartwarming gift for Mother's Day? From bump to baby, these gifts will give mom a kick.
1. Tushbaby Ultra-Comfortable Waist Carrier

Carrying her bundle of joy can take a toll on mom's back. Tushbaby is a strap-free, ergonomic hipseat that evenly distributes her baby's weight—so she can carry her little one longer and more comfortably.
2. Totebaby Ultimate Tote for Moms
Every mom needs a bag of tricks. This buttery vegan leather tote doubles as a diaper bag, grocery bag, yoga bag, sneak-your-candy-into-the-movies-or-whatever-you're-into bag.
3. Parenting Championship Pint Glasses
Synchronized meltdowns. Outfit wrestling. Anyone who's spent enough time with small children can tell you that sometimes even everyday tasks can feel like athletic feats. This glass set toasts to the champions of motherhood.
4. Homedics Salt-N-Soak Pro Footbath
After a long day of errands, diaper-changing, and keeping a human alive, mom deserves a soothing soak on the sofa. This footbath provides spa-like comfort while she catches up on Love Island.
5. MomBox: The #1 Care Kit For New Moms
In those first few weeks home with a new baby, it's easy for the birthing parent to forget about their own healing body. Mombox is the perfect way to remind new moms to center their own well-being and recovery because, as the saying goes, you can't pour from an empty cup.
6. Jellycat Lamb Mum & Me Book + Lamb Blanket
Bonding is easy with My Mum and Me, as we learn why one lamb loves Mummy so much. Pair this with Jellycat's Bashful Lamb Soother for an adorable combination perfect for mom's first Mother's Day.
7. Ethan & Emma Stroller Organizer ⏰
Keeping everything organized is a universal struggle felt by all moms. Ethan & Emma's Universal is a dream come true and pairs well with almost any stroller under the sun.
While the little one catches some Z's, mom deserves a moment to herself. Let her drift away on a cloud of luxurious moisture-rich bubbles as visions of Flowering Willow & Lotus float in then flutter away, leaving a trace of Orchid on their wings.
9. Hatch Rest Gen 2 Sleep Machine
For healthy sleep habits at every age, Hatch's Rest helps newborns sleep soundly, early-risers stay in bed, and bedtime battlers look forward to sleep.
10. Mystical Mushroom Weighted Migraine Mask
Let mom immerse herself in images of tranquility with this handmade, weighted mask. Illustrated with a print featuring mushrooms and crystals, it's easy on the eyes--and may help her rest hers after a long day.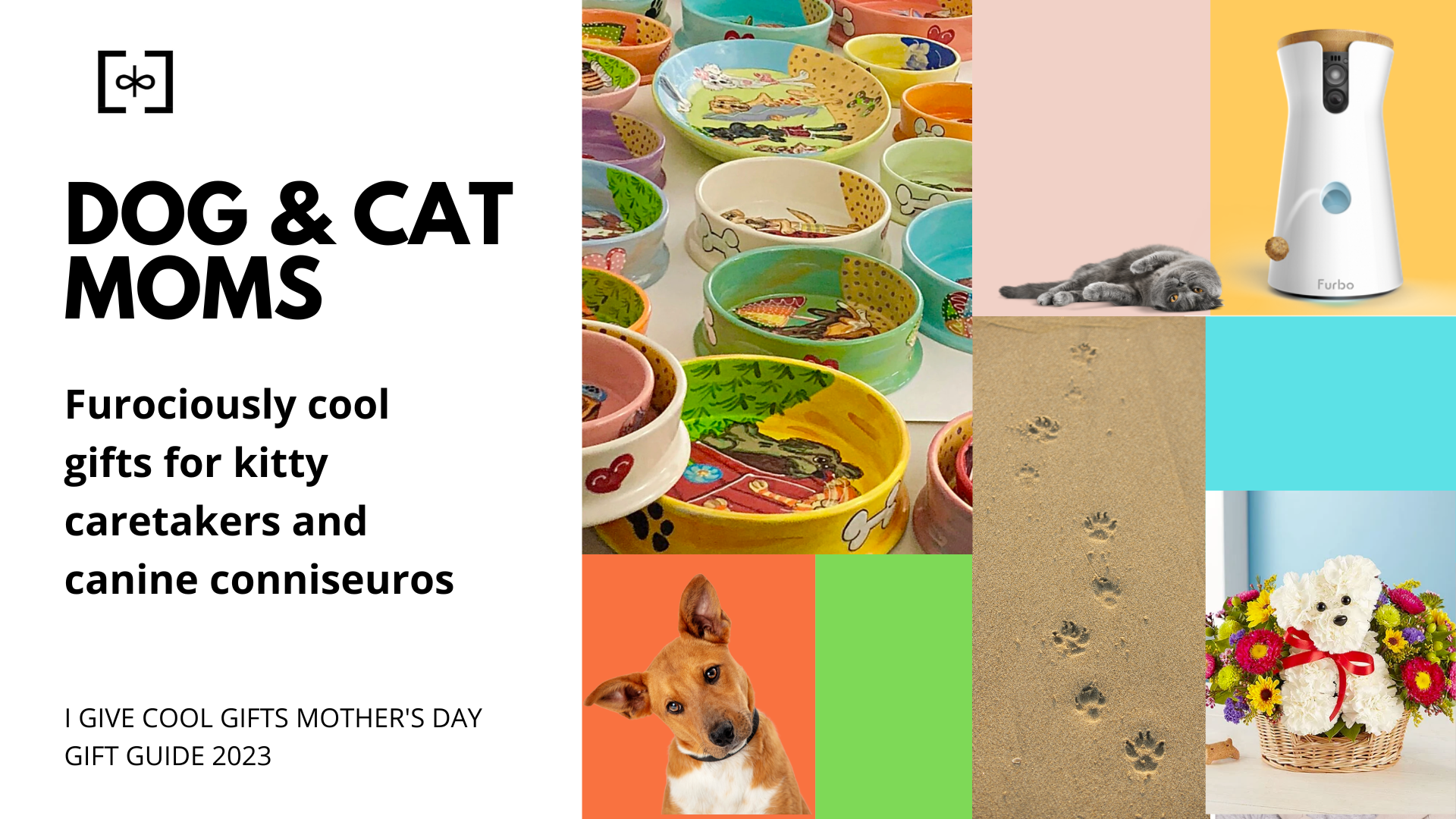 For the dog or cat mom who loves her furry friend, these gifts have her loyal companion in mind, so don't hesitate to go full send:
A house divided. Instead of the classic knights, kings, and queens, each side features a royal court filled with various breeds of felines and canines, all ready to duke it out in the most highbrow way possible.
2. 1-800 Flowers a-DOG-able in a Basket
Unleash the smiles with this furocious floral creation. This basket makes a great gift for pet lovers or anyone who could use a little more puppy love in their life.
3. Faux Paw Custom Hand Painted Portrait Bowl
Hand-painted by artist Debby Carman, a worldwide acclaimed Laguna Beach artist and sculptor, known for her warm, whimsical and heartwarming pet portrayals. This makes a perfect gift for anyone who loves their pup more than life itself.
The black and white feline pair on this 100% cotton blanket will inspire cozy cuddling and snoozing.
5. Furbo Treat Dispensing Camera ⏰
The Furbo treat dispenser is a great gift for moms who want to stay connected with their furry friends, even when they are away from home.
6. Cat Inside Out Reversible Robe
Any cat mom will love this robe featuring Tabbies, cow cats, tuxedos, and more as they pose nonchalantly.
7. KittyRoo Cat & Small Dog Carrying Hoodie ⏰
If her cats have a habit of interrupting her in her home office, the KittyRoo will give her feline friends an ultra-soft home while she continues her day.
For mom's committed to the purr-baby life, give them a trio of feline-themed gifts to make them grin like Alice in Wonderland's Cheshire Cat.
9. Silver Cellars Wine Pet Feeder
For cats and dog who only deserve the best, Silver Cellars crafted this feeder using a panel from one of the wine shopping boxes that once embraced their fine wines.
10. Ground & Hound Coffee ⏰
Every cup helps a pup! Grounds & Hounds pairs a selection of medium roast coffee with charitable contributions to a variety of animal rescue initiatives.
I hope you found these gift ideas helpful and were able to find the perfect gift for your mom. Thank you for supporting I Give Cool Gifts and our mission to make gift-giving easier and more enjoyable. From all of us here, we wish you and your mom a happy Mother's Day!
I Give Cool Gifts is the ultimate destination for gift-giving inspiration. Browse through thousands of gifts to find the coolest presents for the coolest people in your life. Our expertly curated selection is updated daily.
Please note that we do not purchase or sell any items on our website, but some products may be subject to affiliate commission. You can learn more about our affiliate policy here.