For moms on the go, finding time for self-care can be a challenge. With Mother's Day around the corner, now is the perfect opportunity to show your on-the-go mom how much you appreciate her with a gift that fits her busy lifestyle. In this blog, we've rounded up some of the best Mother's Day gift ideas for moms who are always on the move.
These gifts are perfect to touch down on mom's heart; nothing says I love you like, "please go visit the other side of the world"...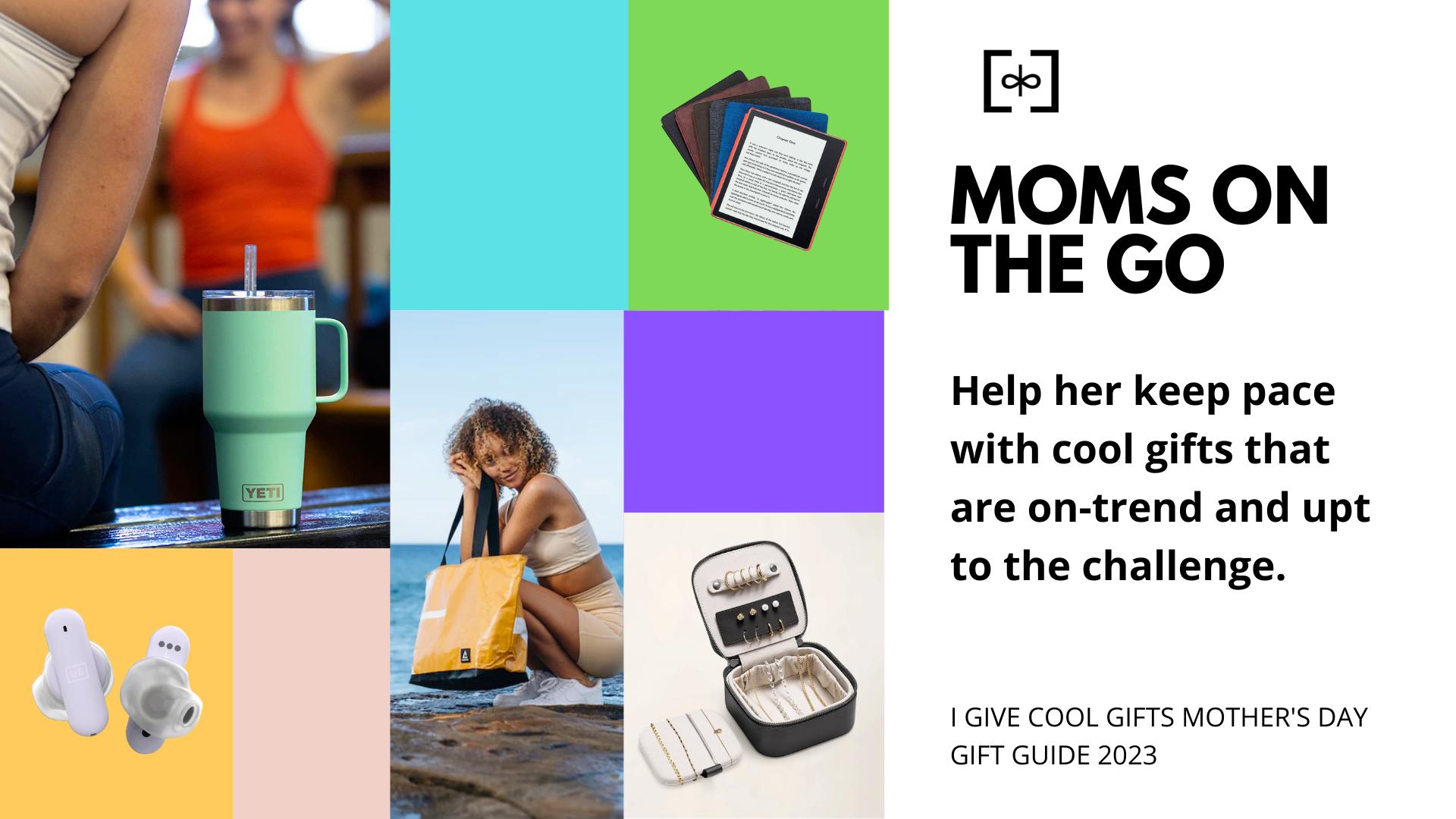 1. Rareform Billboard Beck Cooler Bag
These totes are made from recycled billboards...how cool?! The Beck is the perfect go to cooler bag for drinks, snacks, and anything else on the go.
2. Vessi Everyday Move Slip-on
These athletic-inspired sneakers offer mom the perfect blend of support and breathability for daily movement in any weather. Oh and they are completely waterproof.
3. Away Travel "The Jewelry Box"
Traveling with jewelry can be a pain. The Jewelry Box fixes that. This leather travel kit has multiple organizational compartments for all of mom's essentials.
4. UE FITS Custom Fit Truly Wireless Earbuds
Mom's search for the perfect pair of ear buds that won't fall out of her ears is finally over. UE FITS molds to her ear in just 60-seconds of setup for a lifetime of comfort.
If mom doesn't already have a Kindle, this is an easy choice. Paperwhite is thin, lightweight, and travels easily so she can enjoy her favorite books at any time.
6. Rifle Paper Co. Luggage Tag for Apple Air Tag
Combining tech and style, this Apple Air Tag and luggage tag set let's mom track and spot her bags easily with the unforgettable Rifle Paper Co. florals.
Perfect for the beach or mountain top toasts, this durable and eco-friendly bottle bag fits two bottles and is is not only made from postindustrial waste, but it is also completely biodegradable
8. Shokz OpenRunn Bone Conduction Headphones
If mom is constantly switching between her music, podcasts, or calls on the go, I can't recommend OpenRunn by Shokz more. My favorite headphones that sit just above the ear for those who aren't fans of earbuds.
9. On Women's Cloudswift 3 Running Shoes
Whether she's touring around Rome or traversing the streets of Amsterdam, mom will need a good pair of sneakers who can handle all day pressure.
These days it's hard to imagine leaving the house without your emotional support water bottle. This hefty hydrator is up to the challenge to keep mom's favorite beverage cool wherever she takes it.
I Give Cool Gifts is the ultimate destination for gift-giving inspiration. Browse through thousands of gifts to find the coolest presents for the coolest people in your life. Our expertly curated selection is updated daily.
Please note that we do not purchase or sell any items on our website, but some products may be subject to affiliate commission. You can learn more about our affiliate policy here.